Start Using: info@Your-Business.com.au
Research shows that 74% of people think a free email address like bigpond / gmail / hotmail looks unprofessional. By registering your business domain name you have the ability to run your own personalised business email address. It's easy to setup and you can access your emails from any computer or phone!
1 Register your domain name
2 Add email hosting to order
Look Profesional
Research shows that 74% of people perceive a free email address as unprofessional. Build trust with new clients by sending your business communication with a professional email address.
Own Your Email Address
Free email providers reserve the right to terminate your service should you change internet providers or have your account hacked, resulting in lost business emails and contacts. With a professional email address you own it!
Reduce Spam
Time is important in business and you shouldn't be spending your day deleting spam. Our professional email service includes industry leading SPAM filters and virus protection to keep your devices safe.
Access From Computer & Phone
Your professional email address can be setup on unlimited devices including PC, Mac, Android, iPhone and much more. All email is synced between devices so you can run your business from anywhere.
Email Support Team
We have a dedicated email support team that can help you setup and manage your email service. To use our professional email service you don't need any technical skills as our team can remotely log in and setup all your devices.
Daily Backups
We understand business email are important so if any emails are accidentally deleted or go missing our team can restore them back to your account. We keep a secure daily backup of your email on a seven day rotation.
What is email hosting or which package should I choose? Call us on 1300 84 00 84
Run By Domain & Hosting Experts
New Domain is a domain reseller and hosting provider, based in Melbourne, Australia. Our management and support team have decades of experience in the domain name industry and have put the best tools and information together to help new businesses with the online journey. Our hosting infrastructure is run by the trusted team at Hosting Australia.
We Understand New Businesses
We understand new business owners are busy, and have limited time to get things "working" and in some cases have little understanding around domains and all things internet. That is why our registrations and support team are on hand to answer any questions you have and assist! Call our team on (03) 8400 4424, we love to help!

Great service. The registrations team helped me secure my domain name and add email so I could have it printed on my business cards the next day. Highly recommended.

I know nothing about the internet and Mark was very friendly and helpful. He explained everything clearly and logged into my computer to even help setup my email account.

New Domain are now my preferred supplier for domain names and hosting. The service is fast, reliable, and the management tools are very easy to use.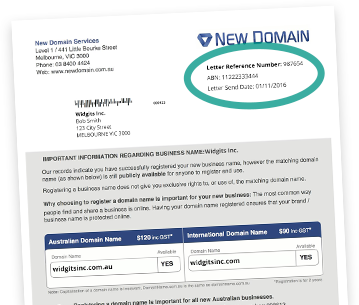 Registration takes two minutes!
Enter your letter reference number to start:
or search via domain name

here